Durham Region's downtowns are brimming with finds for every plate and palate.
Did you know that trying new foods, or recipes is good for your health? If you want to relieve stress by getting creative in the kitchen, or you're looking to support local restaurants and shops, there are lots of downtown takeout spots and grocery stores to be inspired by. Whether you want to eat less meat with plant-based meals, try out some vegan or dairy-free foods, switch to gluten-free pizza and breads, or you're looking for some organic meats for your keto, ancestral or Paleo meal plan, Durham Region's downtowns are brimming with finds for every plate and palate.  
Here's a list of nine local Downtown Durham Region shops and spots that offer delicious, healthy eats.
1. Downtown Ajax:
Choko-Mocko
Gluten Free Bakeshop
71 Station Street, Unit 2, Ajax
Choko-Mocko Gluten Free Bakeshop in downtown Ajax is a health store, bakery and restaurant featuring vegan, gluten-free, corn-free, soy-free, dairy-free, Paleo and sugar-free items. The offer a full range of products from freshly baked breads, muffins and desserts to takeout meals. Swing by to enjoy their juice and smoothies or to pick out something from their retail store.
2. Downtown Bowmanville: Nutrition Kitchen
47 King Street West, Bowmanville
Nutrition Kitchen is a holistic inspired gluten free café offering Paleo, keto and vegan options as well as a retail store in downtown Bowmanville. They have wellness ciders and smoothies, as well as freezer meals like vegan chili and keto shepherd's pie. All of their food is gluten free, dairy free and refined sugar free. Check out their Facebook page before visiting to confirm their hours and specials. 
Balance Salad, Nutrition Kitchen
Source: Nutrition Kitchen
3. Downtown Brooklin: Harvest
Harvest, located in beautiful downtown Brooklin, is a restaurant featuring vegan, gluten-free and vegetarian meals. Their menu has many delicious options to choose from including crispy fried cauliflower, roasted heirloom beet salad, vegan chickpea and cashew curry, and plantain and sweet potato tacos. Call ahead or check their website for restaurant hours. 
Heirloom Beet Salad, Harvest 
Source: Harvest Brooklin, photo courtesy of Stephen Stoddart
4. Downtown Newcastle:

Buddha Belly Bakery
29 King Avenue East, Newcastle
The Buddha Belly Bakery in picturesque downtown Newcastle offers gluten–free, dairy–free, and nut-free baked goods. All products are made with high-quality, organic ingredients. There are lots of items to choose from to fit your dietary restrictions, from their gluten-free and dairy-free quiche, to Buddha bar squares, bagels and fresh sourdough. Check their website in advance before visiting as some items are pre-order only.
Gluten-Free Sourdough Bread, Buddha Belly Bakery
Source: @wellnesswith.kate

5. Downtown Oshawa: Mathilda's
29 Simcoe Street South, Oshawa
Located in downtown Oshawa, Mathilda's is a plant-based, vegan restaurant and retail store that offers mindful meals both fresh and frozen. The have many gluten–free and nut-free options, and also sell vegan supplies and products. Their plant-based menu includes items like vegan and gluten-free mac and cheese, power bowls, banh mi and ever–changing daily specials.
Buffalo Cauliflower Wings, Mathilda's
Source: Mathilda's
6. Pickering Nautical Village: Zeera By the Bay
713 Krosno Boulevard, Pickering
Zeera By the Bay in the Pickering Nautical Village offers fine Indian cuisine that includes vegan, vegetarian and gluten–free options. With classic and contemporary Indian dishes, it's no wonder the name Zeera translates to English as sophisticated flavour.
7. Downtown Port Perry:

Marwan's Global Bistro
Marwan's Global Bistro in downtown Port Perry features a diverse menu of internationally inspired dishes. There are so many great options to choose from to suit your tastes such as their thai red vegan curry, roasted vegetable wrap, vegan Middle Eastern red lentil soup and roasted vegetable quinoa bowl.
Roasted Vegetable Bowl, Marwan's Global Bistro
Source: Marwan's Global Bistro
8. Downtown Uxbridge:

Fig Kitchen and Market
29 Toronto Street South, Uxbridge
The Fig Kitchen and Market in Uxbridge is a one-stop shop for organic pantry staples, fresh fruits, vegetables and prepared baked goods. Their kitchen also has vegan and plant-based takeout dishes for the whole family. From crispy cauliflower tacos, to beyond meat and beyond chickun burgers and sandwiches to gluten-free pizza and harvest bowls, there are takeout options for everyone in your crew.
Vegan Fish Tacos, Fig Kitchen and Market
Source: Fig Kitchen and Market
9. Downtown Whitby: Healthy Meats
121 Brock Street North, Whitby
If you're looking for organic and traditionally raised meats, then Healthy Meats in downtown Whitby will be your new go-to. They feature antibiotic and hormone-free meats that are traceable from farm-to-fork such as their natural pasture-raised grass-fed beef, chicken, pork and lamb. They also have healthy fish and seasonable specialties like bison, elk, and turkey. In addition to their meat selections, they also have rubs, mustards, spice mixes and other sauces as well as charcuteries board extras.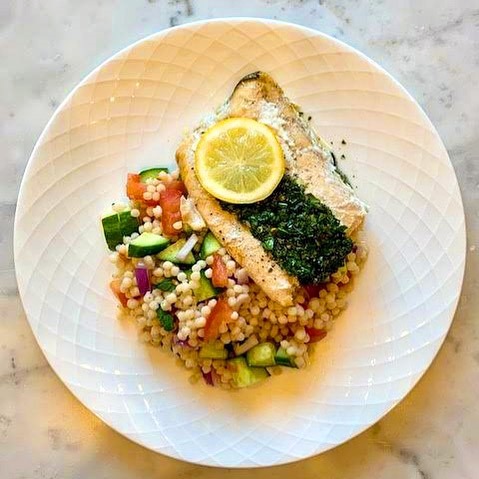 Lake Trout with Chimichurri, Healthy Meats
Source: Healthy Meats