Even within COVID-19 precautionary measures, we can continue to travel through our taste buds by experiencing meals with origins from the Caribbean, Ireland, Greece, India, Italy, America, Hungary, and beyond...
One of my favourite things about travelling outside of the country is experiencing the food and culture that a new destination has to offer. For most of us, travel will look a little bit different this winter. As a Newcastle local resident, I am proud of the variety our local restaurants have to offer in our little village. From pub classics to secret recipes handed down from generation to generation, Newcastle really does have a variety of exciting and delicious food options. There is a lot of talent and variety in cuisine available throughout our small little town.
I wanted to share some of my personal go-to spots from within the village here in hopes that you will consider trying a new restaurant. Step out of your comfort zone and try a new dish that you might not usually try. After all, even within COVID-19 precautionary measures, we can continue to travel through our taste buds by experiencing meals with origins from the Caribbean, Ireland, Greece, India, Italy, American, Hungary, and beyond.
Here are some of my personal favourites; I hope you'll consider giving them a try!
Da Taste
Da Taste is a family-run restaurant that takes pride in providing the best quality food and service to provide our community with an authentic Jamaican dining experience. Their vast menu is packed with curry and roti options, but you can try fried plantain, fried chicken, and oxtail too! This is my absolute favourite spot for jerk chicken in Durham. The spice level is just right, and the chicken is always cooked to perfection. The jerk chicken meal comes with rice and peas, and steamed veggies or coleslaw. To be honest, I always order the jerk chicken meal and a chicken curry roti. The staff are welcoming, and the portion sizes are worth noting. Great value and a fantastic way to explore the tastes of the Caribbean.
Walsh's The Snug
This cozy pub is full of charm and character. They've recently expanded their seating to the back room and added a patio along the building's side to accommodate more guests. Owner John's family has been in the pub business since the late 1800s. He comes from a family that owns pubs all over Ireland and the UK. If you're looking for the authentic Irish experience, you have to try their colcannon. It's a traditional Irish side dish of mashed potatoes that is often made with kale. Other Irish fare recommendations are their Irish nachos, Irish pasties, Irish onion soup, bangers n' mash, or the corned beef and cabbage dinner.
The New Massey House Restaurant
This restaurant has been in town since 1997, and there's a reason they've remained such a mainstay. They prepare market-fresh meals with a pub-style twist. The New Massey House Restaurant has built up a bit of a reputation for making an awesome Greek dinner. Try Gus' traditional souvlaki pork, chicken or shrimp, served with vegetables, rice, choice of potato, and a side Greek salad.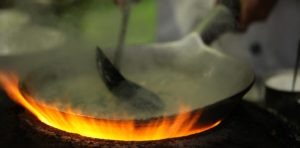 Castle John's
Perhaps you've noticed that Castle John's operates several locations in the area. The Newcastle location of Castle John's has one of the most extensive menus in the village. They have intentionally created an extensive menu so that anyone can find something to enjoy. If you are looking for a delicious authentic chicken curry or butter chicken, you need to try what they are serving up! Both dishes are served with basmati rice, warm naan, and a tomato and cucumber ranch salad. If you're looking for pasta dishes, there are a ton of pasta dishes available on the menu as well. I recommend you try their lobster ravioli!
Strudelicious by A & M Catering Service
Did you know that Newcastle now has an option to try homemade Hungarian food? This is one of the newest businesses to open up in the village right along Highway 2 despite having over 35 years of strudel-making experience. They offer drool-worthy cabbage rolls, some of the best schnitzel around, and several other classic Hungarian hot meals and treats. I'd recommend you swing by for a fresh schnitzel on a bun around lunchtime and take home a fresh strudel or a decadent pastry—the blueberry strudel is my personal favourite. Having nearly 20 different types of strudel, you can explore a full range of savoury and sweet strudel options.
While we might not all get the chance to travel this year, we can certainly keep things interesting while supporting local. Each of these small businesses has adapted to the challenges faced during the pandemic. It's no shock that the entire restaurant industry has experienced an enormous shift in its business operations. A lot of these businesses have had to pivot and offer additional seating outside when possible, and all of them have had to really ramp up their operations to focus further on takeout and delivery service.  While we haven't been dining out as much, we have certainly been taking advantage of these restaurants' takeout and delivery. A delicious way to support local business is by stepping outside of your comfort zone and trying a new restaurant. Let your taste buds explore new flavours by supporting these and other restaurants in downtown Newcastle when you can.
NOTE: At the time of publishing, Durham Region is in a province-wide shutdown with extensive measures in place to stop the spread of COVID-19. Residents are encouraged to stay at home with exception to essential trips, wash hands frequently, wear a mask and physically distance from others.
We continue to publish these stories to encourage you to explore these businesses and communities online and through social media. When possible, please order for safe curbside pick-up if offered, and prepare to explore these areas once they are able to safely reopen.